Our current range of beers on tap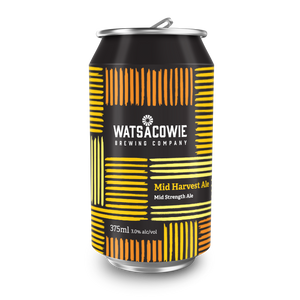 1. Mid Harvest Ale
Aussie Mid-Strength
A simple, clean, dry and crisp beer that is lighter in alcohol for when you want to stay and play longer. Made with local S.A. grown barley. A farmer favourite, especially after a long day at work, or a day off down the beach.
Tasting Notes:
Clean, refreshing and lager-like with just a touch more flavour from our house ale yeast. Highly sessionable and easier drinking than a cold glass of water on 40C day.
IBU: 12
EBC: 7.3
ABV: 3%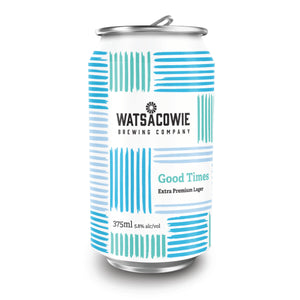 2. Good Times - Festbier
Extra Premium Lager
Inspired by the festive Oktoberfest lagers of Germany, comes a brew tried and true for good times. 
An extra premium Oktoberfest style Lager brewed with the best premium German style malts, soft water and an extended cold maturation, this lager is devilishly smooth and easy drinking despite it's especially festive 5.8% alc/vol.
Designed for extra good times. Prost!
Tasting notes:
Honey and fresh baked bread with a little toast on the nose following through to the taste with a medium smooth body and extra crisp refreshing finish!
ABV: 5.8%
3 Watseltz
Mexican Cervesa
Watseltz, the best spritzy refreshment on a
hot sunny day!
Part Seltzer and part Cerveza, this Mexican inspired brew features a delicate lemon-lime infusion.
When the golden beaches of Mexico are too far away, the Yorke Peninsula is your next dream stay. Home to our cellar door and brewery.
Good vibes, holiday tides and thirst-quenching lemon limes
Tasting Notes

Effervescent mouthfeel, bright, almost clear, refreshing zest of lemon
lime,  subdued malt flavour.
IBU: 16.5
EBC: 3.4
ABV: 4%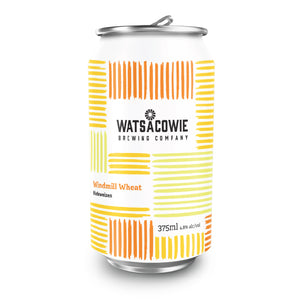 4. Windmill Wheat
Hefeweisen
German for "Yeast Wheat", this is the Granddaddy of Hazy Pale Ales
Refreshing and fruity with the famous banana aromas true to the style. A traditional German Hefeweizen. Flavours of bread and bananas. The Ultimate refreshment.
Tasting Notes
Banana, light clove and fruit on the nose and flavour. Easy drinking, light bodied, golden in colour and hazy. with a tart wheat finish
5. New Wave
Nordic Pacific Ale
It's a brand new style of beer pushing the limits of flavour and sessionability at only 3.5%, this brew is a little beast!
Tropical Aussie Hops display an array of flavours including big passionfruit, pineapple and mango. Tropical Nordic Yeast brings even more mango and citrus to the party and likes to stay out and play (in suspension) for all your juicy, hazy flavoursome goodness.
All tied together with golden Aussie barley malts, with the addition of oats, wheat and rye for added flavour, smoothness and complexity. Paradise in a can of beer, for all times of year.
Tasting Notes:
Passionfruit and tropical fruit juice with some subtle spice from rye malt and Nordic yeast.
IBU: 25
EBC: 10
ABV: 3.5%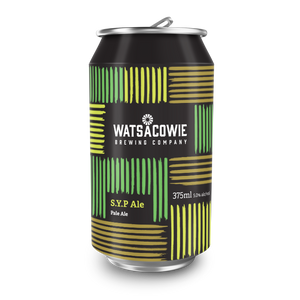 6. S.Y.P. Pale Ale
American Pale Ale
You can't go past a classic, this expertly balanced pale ale is a tribute to the American Pale Ales that started this whole craft beer craze.
This isn't your latest wacky DDH fruited NEIPA, the restrained use of classic ingredients let every ingredient shine brighter for a truly flavoursome yet refreshing experience.
All American hops display all the fresh orange, grapefruit and pine you could desire. While the fresh Aussie malts lay the foundation offering sweetness to harmonise with the bitterness of the hops, thus creating the perfect crisp finish.
Tasting Notes:
Freshly juiced grapefruits and oranges, mountain pine, medium malt character with hints of honey and caramel.
IBU: 38
EBC: 16
ABV: 5%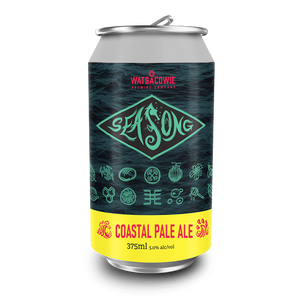 7. Seasong
Coastal Pale Ale
Try the all NEW recipe - the taste of Spring in a can - this seasonal Pale Ale just tapped and canned!
Tasting Notes

Low bitterness, smooth yet dry, this is a spring
themed pale ale that hits different and is also a delicious food pairing beer.
Cheese platters and all types of platter work superbly with this cracker!
IBU: 16
EBC: 9
ABV: 5%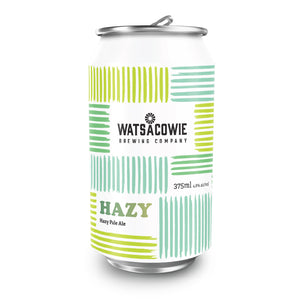 8. Hazy
Hazy Pale Ale
Welcome to hop town. Utilizing all our freshest favourite New World hops and more for an explosive hop flavour! Seriously juicy and stupidly delicious.
Tasting Notes:
Orange, passionfruit and tropical punch. Little bitterness and maximum smoothness, light yet juicy and balanced. Haze for days and the frothiest whipped head, drink up!
IBU: 30
EBC: 9
ABV: 4.8%
9. River 2 The Sea
Belgian Strong Ale
Two regions come together to brew a one of a kind beer. Two worts, one from each Woolshed and Watsacowie brewhouses, both with unique additions from each region, merged as one.
Tasting Notes
Yorke Peninsula tosated honey complimenting locally grown malts and soft Riverland water. Fermented with Ferveo's finest Belgian yeast to create a classic flavour profile of citrus and bubblegum with a dry, spicy finish.
Brewed in collaboration between Woolshed Brewery, Murtho and Watsacowie Brewing Company, Minlaton
Very Limited Edition, so get in while it lasts!
ABV: 9.3%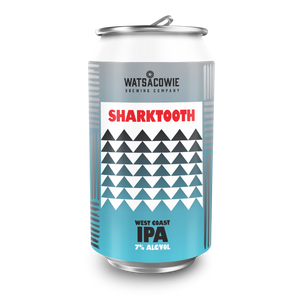 10. Sharktooth
West Coast IPA
Powerful Blood Orange juice floods the senses from Aussie Eclipse Hops that provide a little extra haze. Backed up with our usual American hops for the seductive resin bite. The Shark tooth is a symbol of strength, and at 7% this huge West Coast IPA is something to be wary of. 
The West Coast IPA's of decades past are back! 
Tasting notes:
Blood orange juice and piney juniper. This carries through to a resinous hoppy flavour with some sweet bready malt tones. Finish is a generous yet balanced hop bitterness that tames all the malt.
IBU: 63
EBC: 18
ABV: 7.0%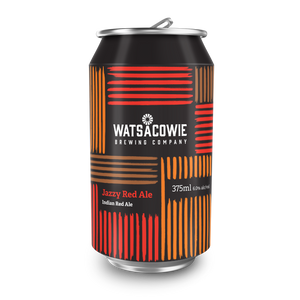 11. Jazzy Red Ale
Indian Red Ale
Named after our Red Kelpie 'Jazz' who would always be tearing around the brewery. She was totally fruity like this beer, but we loved her for it!
This full flavoured Indian Red Ale showcases the complex tropical fruit and berry medley from the magical Mosaic hops.
It's deep red colour is thanks to the maltiest of malt-bills offering up enough caramel, bready and malty richness to tame the higher bitterness and highlight the dark-fruit qualities of the hops.
Tasting Notes:
Mixed berries, tropical fruits, plums, figs, a touch of spice, rich malt, bread and toffee with a firm balancing bitterness.
IBU: 48
EBC: 27
ABV: 6%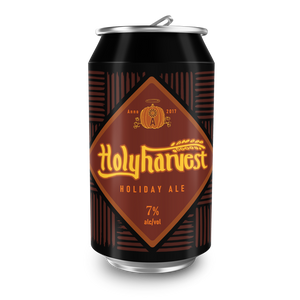 12. Holy Harvest
Belgian Holiday Ale
In Belgium they make specialty spiced versions of their renowned strong ales for the cold Christmas period. In Australia our cooler months are in the middle of the year, so we celebrate the style earlier on and age a little just for christmas. Hence the "Holiday Ale" title, a beer best served in your best beer glass whilst on holiday!
…and we harvested a little extra for our super special rendition!
Sweet butternut pumpkins! These babies were glazed in sugar and caramelised over days in the oven before being added to our double strength Belgian Abbey style ale. All balanced with our top secret pumpkin pie spice blend.
Tasting Notes:
Extra complex flavours of dark caramel, pie crust, sweet pumpkin all tied together with a balancing and warming blend of spices. 
IBU: 15
EBC: 30
ABV: 7.0%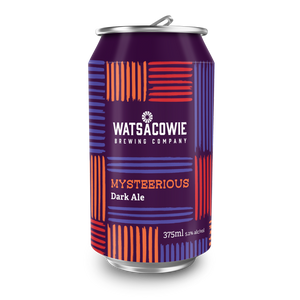 13. Mysteerious
Dark Ale
This beer was named by our brewer who's last name is Steer and this beer is mysteriously easy drinking!
Using our secret light-roast malt blend makes for a delicate chocolatey brew. Much softer lighter and softer than our Stout or Porter, we couple this malt blend with a hint of fruity hops, giving the result of a surprisingly sessionable brew.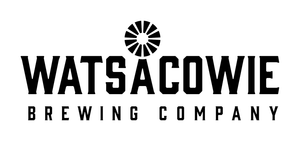 14. Original Brewed Ginger Beer
Ginger Beer
It's finally here! Watsacowie's own original brewed ginger beer! Not too sweet and not too dry, we've balanced this just right. Super fresh ginger flavours are complimented with a little extra spice kick.
Tasting notes:
Imagine your favourite ginger-beer's flavour, now dial that up to 11 and you'll get an idea. A super fresh ginger aroma follows through in the flavour with a little sweetness that's tied together with the spicy, gingery dry finish we all love.
ABV: 4.5%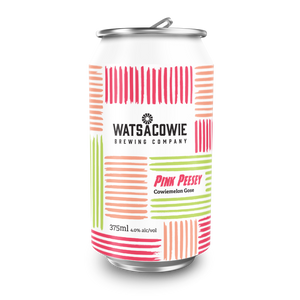 15. Pink Peesey
Cowiemelon Gose
*NO
MELONS WERE HARMED IN THE BREWING*
This brilliant pink drink is brewed with a secret blend of fruits, vegetables,
spices, local pink "Peesey" lake salt topped off with a tropical Nordic yeast
and citrusy sour lactobacillus ferment. Thus creating a whole new melon
experience, the Cowiemelon Gose!
Where
we're located in the Southern Yorke Peninsula "Cowie" translates to water, and
this brew reminds us of some crazed Watermelon fruit cocktail gone terrifically
right.
Oh
and did we mention, IT GOSE DOWN EASY PEESEY!
...Ah
we couldn't resist the obligatory gose pun.
Tasting Notes

Complex
flavours of melon, and hints of tropical fruits, berries, citrus, this brew is pleasantly sour and briney with a crisp finish.
IBU: 8
EBC: Pink!
ABV: 4%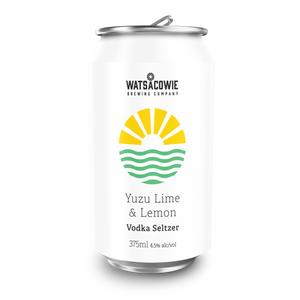 16: Yuzu Lime & Lemon Vodka Seltzer
Hard Vodka Seltzer
This delicious combination of Yuzu [pron. 'Yoo.zoo'] Lime & lemon is soft and sweet, with a delicate refreshing effervescence.
Distilled & produced on site at Watsacowie; we think its best enjoyed chilled, with a couple of cubes of ice.
The combination of the zesty, honeysuckle-like fragrance of the yuzu combined with the lime and lemon citrus notes gives a flavour and aroma reminiscent of a lemonade icy-pole,
4.5% ABV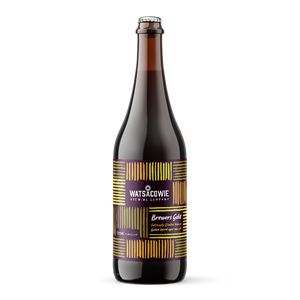 17. Brewers Gold
Barrel Aged Sour Ale
The story of this extraordinary beer began over 3 years ago in late 2019 when we received our first batch of local Southern Yorke Peninsula barley from our good mates, the local farmers.
We brewed this beer with the malt promptly afterwards starting it's life with the same recipe as our "Farmers Gold" beer. This special malt making up 100% of the beer's "grain-bill".

The brew was fermented and then lagered in our stainless tanks before patiently aging for over 2 years in South Australian Shiraz wine barrels. A secondary fermentation happened in these barrels with native yeast and micro-flora which provide the beer with nuanced fruit characters of stone-fruit and wildberries and a nice sour tart-berry finish. The 2 year aging on oak also brings an underlying vanilla and coconut quality with the Shiraz barrel offering up more berry notes.

This beer is brewed utilizing more traditional and unique techniques and is inspired by beers from the Flanders region of Belgium. The result is a beer that has a balance of sweet/tannin/acid, much more wine-like than beer's usual bitter/sweet balance.

Expand your taste-bud horizons and try this truly unique and local brew before it's gone.
Cellar a bottle for years, drink it fresh on tap at the brewery or pair this top shelf beer with your favourite top shelf cheese.
Tasting Notes: Deep and complex aromas of stonefruit, wildberries, champagne and vanilla. Tangy sour flavours of dried apricot, grapes and smooth toasty oak undertone from extended aging. Finish is Sour yet exceptionally crisp and refreshing.


Food pairing: The best way to enjoy your top shelf cheeses is with this top shelf beer. The acidity of the style helps to cut through the fats in the cheeses resetting and refreshing the pallet.
Other options are fatty meat such as pork OR as an alternative to white wine when pairing with fresh seafood.
IBU: N/A
ABV:5.5%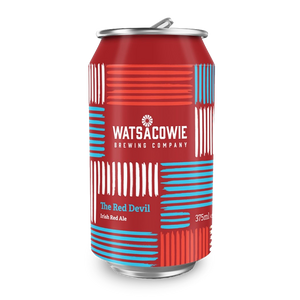 18. The Red Devil
Irish Red Ale
The classic Irish Red Ale has landed at Watsacowie.

A tribute to Harry Butler's historic Red Devil plane on display here in Minlaton. We use local barley blended with irish style kilned malt, flown in to make this brew extra special.

A refreshingly smooth and easy drinking brew with a beautiful red hue.
Tasting Notes: Colour is a glowing amber red with brilliant clarity. Aromas of our fresh local malt, caramel, bread and a little chocolate. Flavours to match with an extra smooth mouthfeel and finish.
IBU: 20
ABV: 4.5%