Brewers Gold Special Edition Longneck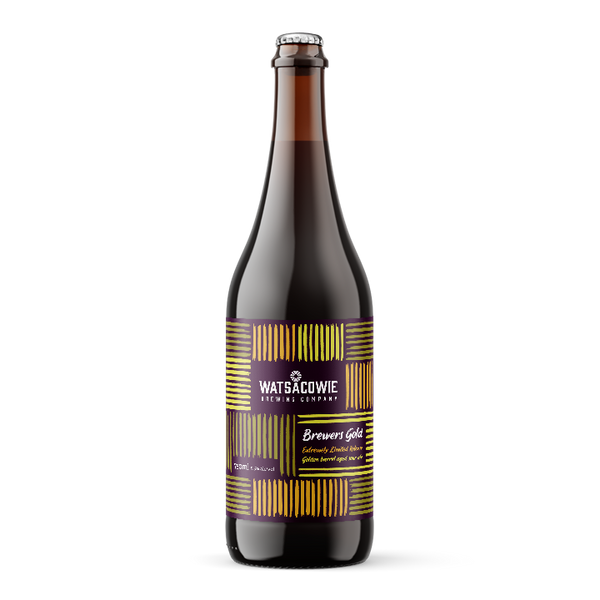 This very special brew is an extremely limited release of under 500 bottles and limited keg quantities so get in quick.


The story of this extraordinary beer began over 3 years ago in late 2019 when we received our first batch of local Southern Yorke Peninsula barley from our good mates, the local farmers.
We brewed this beer with the malt promptly afterwards starting it's life with the same recipe as our "Farmers Gold" beer. This special malt making up 100% of the beer's "grain-bill".

The brew was fermented and then lagered in our stainless tanks before patiently aging for over 2 years in South Australian Shiraz wine barrels. A secondary fermentation happened in these barrels with native yeast and micro-flora which provide the beer with nuanced fruit characters of stone-fruit and wildberries and a nice sour tart-berry finish. The 2 year aging on oak also brings an underlying vanilla and coconut quality with the Shiraz barrel offering up more berry notes.

This beer is brewed utilizing more traditional and unique techniques and is inspired by beers from the Flanders region of Belgium. The result is a beer that has a balance of sweet/tannin/acid, much more wine-like than beer's usual bitter/sweet balance.

Expand your taste-bud horizons and try this truly unique and local brew before it's gone.
Cellar a bottle for years, drink it fresh on tap at the brewery or pair this top shelf beer with your favourite top shelf cheese.

Tasting Notes: Alluring wine-like aromas of wildberries, peaches, honey and vanilla. Flavours of malt, honey, tart berries, juicy stone-fruit and a smooth oak undertone from extended aging. Finish is somewhat sour yet exceptionally crisp and refreshing.


Food pairing: The best way to enjoy your top shelf cheeses is with this top shelf beer. The acidity of the style helps to cut through the fats in the cheeses resetting and refreshing the pallet.
Other options are fatty meat such as pork OR as an alternative to white wine when pairing with fresh seafood.
IBU: N/A
ABV:5.5%